A poem inspired by our recent tour of the Danube from Budapest to Bucharest with Emerald Waterways www.emeraldwaterways.com, with lectures from BBC correspondents Martin Bell, John Simpson and Nick Thorpe.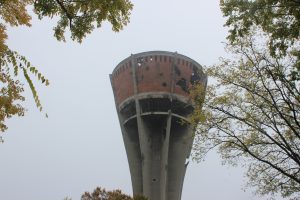 "All Wars are the Worst War" (Sergeant Andy Mason of the Desert Rats)*
The sniper dives behind a shattered door frame,
disappearing into long shadows of waiting.
Time travels both fast and slow
within the confines of his battle.
The windows of the nearby Hotel Dunav are being shot
window by window, floor by floor,
in the concrete Communist block skyscraper
towering over Vukovar's harbour.
Houses stand bombed and broken.
A neighbourhood street where mothers had cooked,
children had played, grandparents visited,
now unrecognisable.  A tumble of jagged bricks and breezeblock.
There's nowhere to run.  Every corner covered,
the wide wild fields of wheat booby-trapped with landmines.
He thinks he is fighting for justice, territory, belief.
He has not lived sufficient years to realize he's a political pawn.
A mortar blasts and rocks his cover.
He ducks into darkness in the shelled ruin of a shop,
aims his gun into the gloom to discover a fighter
sheltering under the counter, teeth chattering, stupefied in terror.
Snipers firing, snipers being slaughtered, so many being maimed.
No orders reach them.  Fear takes over.
Their young-man bravado seeps into the blackness of their hearts,
the futility of war murdering them both in its own way.
*From In Harm's Way: Bosnia: A War Reporter's Story by Martin Bell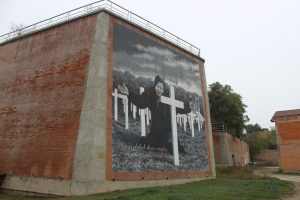 Mexican Christmas
In a battered Chevrolet
we steered past surf Oceans
along the dark desert highway
warm wind in our hair
singing the bending route
to the doorway welcome
at the Hotel California
where we stopped for the night
tall sons mirrored by the ceiling
danced in the courtyard
with the pretty pretty girls
in sweet sultry sweat
who brought us the wine
by graffiti-basted walls
and we signed our names
in tequila haze
next to the old guys
moments to remember
moments to forget
such a lovely place
such a lovely space
our voices echoed down the corridor
we could check-out
any time we liked
and we could leave
back to the shimmering light
of Pacific breakers
on the Baja California.
A cruise on the Hertigruten ship in Norway in Feb 2011.  We had hoped to see the Northern Lights but it was too cloudy which was disappointing.  But we did have a midnight ride under the stars with huskies, driven by an Englishman who had found his way to Norway from Durham via South Africa!  And bizarrely was happy as larry with his dogs at minus 30 degrees.
Northern Light

The huskies stand dark-shadowed
baying to the ice moon
snow-footed they wait
for the boy with his expert fingers
to knit them in bridal pairs
for their sledge journey.
His eyes see through the night blanket
they sense his mood
his joy releases speed
his doubt provokes a slip of the paw
jolting him off the sheet-white track
into danger within black skeletal trees
miles in the frozen nowhere
they move as one body
like a trout twisting upstream.
Stopping under the dancing stars
they warm his sleep
in the three-dog night.
The Perigord
"We'll just have a light lunch today" they said
As they struggled to the breakfast table, fresh out of bed.
"Just a coffee, a salad or a morsel of cheese."
"Soup's what I like – oh, and a glass of wine, please."
The waitress, bemused, is deaf to their words:
Plates slam down on the table, heels clack on the boards.
A soup and a salad, a fish course and some meat:
Two and a half hours later, their stomachs are replete.
Pink and white Britons, their buttons too tight,
Return to their car: "Yes a skimpy supper tonight."
Snorkelling
Snorkelling under the Indian Ocean
looked so easy to me.
Others swim in gentle motion
but I just get lungfuls of sea.
I catch a glimpse of coral reef
of sea cucumber or striped fish
then goggles blind me to what's beneath
and I must surface with a splash.
This other world is hidden from view
except, it seems, for the competent few.
I'm reasonably ready to try something new
but snorkelling just got me in a bit of a stew!