My Generation
 We were all on this ship in the sixties, our generation, a ship going to discover the New World. And the Beatles were in the crow's nest of that ship.

John Lennon - (1940 - 1980)
I was number 36 of the Beatles Fan Club, in around 1963.  I was 13 years old and crazy about John Lennon.  I still have all my memorabilia, including a letter from the Beatles Fan Club promising us that when the Club reached 100 members they would have a party 'with the boys'. But by the time it reached 100 it actually reached several thousand. So we never got our party. But I did go to see them at the Finsbury Park Astoria in 1964, and the Stones in Weymouth, and screamed along with the rest of them.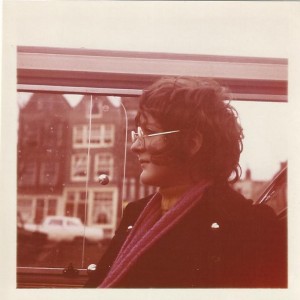 It was a time when the old order was challenged, the Establishment questioned.  Music and TV sparked new ways and new thinking. Fashion was young and fun and the UK rocked. But it was also the time of the Cold War and I remember being frightened, as I lay in bed at night, that there would be a nuclear war and we would all be obliterated.
It was also a time when women were still treated in the way one sees depicted on Mad Men.  We got used to being mauled, to having someone touch us up on a tube or bus, of innuendo and of being kept in our place. I met my first husband in 1968 and married in 1971.  The words  "Can I speak to your husband?" would be asked by cold callers, who simply put the phone down when I replied that he was out. Women were not regarded as decision-makers or worth discussing business matters with.
But the pill had a radical effect not only on sex – and apparently there was lots of it – but also on women's ability to manage their bodies and the number of children they had so that they could go out to work in a more serious way. They became not only more sexually liberated but also financially independent. This made a phenomenal difference to how we thought about ourselves. Today women can make their own choices as to whether they prefer to stay at home with their children or become a nuclear-physicist, airline pilot or chief executive.
My Generation
They call me a Baby Boomer,
child of post-war,
bomb-sites and ration-books,
of Clark's shoes and grey school knickers
gobstoppers, black and white telly.
They said colour would never catch on;
but it did and the fun revved up,
Bill and Ben consigned to their flowerpot
with Weed and Muffin the Mule
so Dougall could magically intone his psychedelic Roundabout.
Overturned,  innocence stepped aside
as Lucy danced in the Sky with Diamonds.
The Carry On stopped the carrying on.
and the sharpened knives of Mods battered Rockers
on candyfloss beaches while Dixon looked on.
We screamed through Beatles' concerts
didn't hear the note but swooned to the new beat,
ran away to see the Stones, powdered Elton John's nose
danced all night black-eyed in mini skirt.
Our parents couldn't keep us in.
We discarded the established order
Millicent Martin songs exposed Profumo
move over you pale dancing Lords
that was the week that was:
we women had never had it so good.
We burned our bras in the streets,
"equality" the word on our lips.
The man on the moon connected our phones.
Now we could chat to China as we walked up the High Street
while regime-change arose from skyscraper dust.
From cosy Aga, raspberry ripple and apple pie
to explosive Khrushchev and Kennedy's Cuba,
Thatcher and Gorbachev tore the walls down
worldwide we held our candles in the wind:
we don't want to fight no more.
Life Circles: from Lisbon to Nice
The child climbed the gangplank.
Small fingers clutched the mahogany rail.
White-gloved sailors saluted departure.
She waved ribbons of disquiet from the deck,
fear-fingers stabbing her uncharted ribs,
her world disappearing in the seascape
of froth and tumbled swell of fluttering hands.
The ship sliced invisible borders
and an imprint knotted into her neurones:
salt twirled braids in her hair,
the sea winked its farewell,
casting azure in forget-me-not eyes
and scattering sand in her shoes.
Shells whispered surf songs in her ear;
palm trees breezed beneath her skin.
She found herself walking Lowry streets,
the sun locked away within her chest,
Atlantic-flecked waves breaking her lungs,
an indistinct language playing in her ears.
As her feet hit concrete schoolyards
infant scenes faded into albums of separation.
***
When the circular dropped on her mat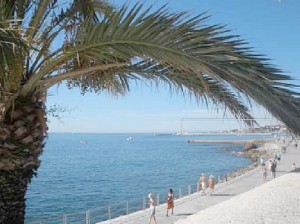 a latitude pull broke through the door,
sweeping grey hair from her eye,
awakening rays of flickering memory.
Easyjet's orange-tipped wings saluted
the semi-circled Nice shoreline,
releasing streams of rippled heat,
burning open long-forgotten narratives,
like dusting off the cover of an old book.
An automatic pilot guided her solitary exploration
of a not-so-new life.
Impressionist strokes of sun's light
pounded recesses of shuttered sense on her skin.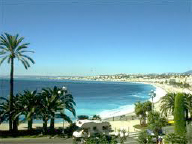 She danced invisible with the child,
streaking the Promenade with their laughter,
singing their Fado in the French cafés,
clothed in bright skies and temperate seas,
lightly tripping through ochre houses,
and weaving bougainvillea trails around the city
where echoing voices spun on blistering cobblestones.
Stars in our Eyes
The air is sticky with popcorn as the door swirls me in.
The vast atrium, arrayed of garish colours, plastic, multiple screens,
buzzes with a confusion of people in coats, jackets and jeans.
They form star-shaped queues in sundry directions.
I have no idea which one goes where.
A machine invites me to Buy Tickets or Collect.  I buy.
Down a dark corridor maze of doorways I swing myself into Screen 10.
Row G seat 22.  It's plush, blue and reclines.  I sit back, breathe away reality,
but am hurled out of my seat as the auditorium roars into life.
The narrow frame of a 5-year old jolts upright beside me.
Thundering voices, music, clatter and clash reverberate.
Surround-sound shakes our bones.  Do they think we're all deaf?
The crackle of crisp packets intrudes the dramatic pauses
the glow of tiny screens competes with the draw of the main feature
texts call for response from distracted minds unable to focus on one thing at a time.
Glamour-chilled young things pour endless alcohol onto cool ice cubes,
glossy hair is swept beguilingly back and forth with perpetual mirth.
Senses bombarded, the mouth waters, heart beats faster, lured into this digital Utopia.
***
The Plaza in my town was tiny, cramped, no multi-cinema box offices here.
The meagre kiosk offered only fruit gums; the stern woman doubted our age.
The darkness wrapped us like a curtain as we tripped into torchlit seats,
innocent fumblings and wet kisses at the back of the stalls,
on stale-smelling fabric grubby from the lustful wear of youthful years,
the final climax of hastily buttoned blouses, zipping jeans as we stood for the Queen.
Nostalgia fades as a lingering cloud of tobacco smoke floats into view:
the screen blurred, our eyes prickled with tiny flicks of ash
from the man in his lone mackintosh with the wandering hand along the row,
the bored blackness of interval moments of frequently broken film,
flickering images of Chinese restaurants, barber shops and the local garage selling Vauxhall cars.
Lights dim in the fleapit, supplanted by subliminal 3D precision in our bright new world.
 We all share some special moments with our parents. They aren't necessarily expensive holidays.  They are often a specific time when we shared an experience that will stay in our mind forever.  This is such a one that stays in mine: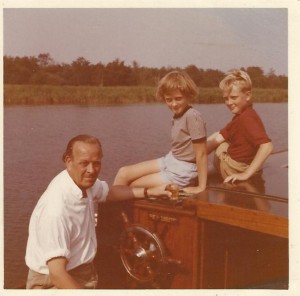 Catching the Dawn, Norfolk Broads, 1957
The air was damp
with silk-spun mist
draping itself over the still water.
The moorhen's solitary salute
echoed across the shore,
as the dinghy rocked
our unsteady feet.
I felt small
within nature's expansive dawn,
my father took my hand
and sat me in the bow,
a droplet of cold river
splashing my bare leg;
a treasured moment,
just me and him,
mother and brother still sleeping,
as his arms sliced the oars
through sky-mirrored water,
jelly-brown ripples sluicing the wooden sides,
a heron stiff as the reed,
black-beedy eye distianful, oblivious
of the plop of hook and fish
as we anchored in the Broad
in the frozen silence
of a black and white memory.
Decades of Misperception
You've always had it so good,
that's what the kids said the other morning
as they languished at the kitchen table
hungover from vodka at the London club
still bronzed from their tropical gap year.
No experience for them of chilly bare floorboards
or bedrooms where ice formed on glass
or frozen bathrooms with hard quarry tiles
or terrifying geezers that blew like a bomb then quietly asphyxiated
or saving for a car that cost £20 under murky arches
or having to push it round the block to start
or breaking down in the rain in desolate countryside
or not having a mobile phone to ring for help
or not being able to get cash out of a wall
or doing DIY instead of calling the Polish builder
or recognising the smell of paint stripper
or sitting in a draughty launderette
or having to wash dishes and wring clothes
or having to change the stylus on the record player
or spending evenings in eating fish pie
or how the lights went out in the 3-day week
or how we could never find the candles let alone the matches
or how the rubbish piled up outside on the pavements
or how the bodies didn't get buried
or making do with just 2 weeks' holiday a year
or having nightmares of nuclear holocaust in the Bay of Pigs
or hearing de Gaulle saying "non" interminably
or watching Khrushchev throw ominous shoes behind an Iron Curtain
r being able only to take £50 when we went abroad
or not having a no-frills airline to open up the world
or not having the internet or email but writing letters
or feeling guilty about making love before you got married
or worrying about shame if you got pregnant
or knowing that boys would be doctors and girls would be nurses
or scraping through recessions and stock market crashes.
But Macmillan told us all we'd never had it so good
so they think he must have been right
and agree that the 1960s was better than now
and agree that it was heaps better than it had been
for my Mum and Dad in the war
so maybe yes, we have had it pretty good.
Political Incident
It was the end of the day,
the lift doors were closing,
the office commute began here.
I pulled my Portobello fur
scruff tight over my mini skirt
and yelled "hold the doors!"
He stood with elegant manner
a long finger on the button.
"Which floor?" he asked politely
as I wished I could fall through it.
Harold Macmillan, for it was he,
my companion for four anxious floors,
benign at 18-year-old idiocy.
I was hardly Krushchev or Kennedy
but he made me feel important nonetheless.
Gent-of-the-old order,
he smiled as I blushed my farewell.
Nothing much said, but never forgotten.
I started my working life in 1968 as a PA in the editorial department of Macmillans, publishers – Harold Macmillan's family publishing company.  He used to come in once a week to see how things were going.  As the poem explains, I was on my way home and saw the lift doors were closing – little did I realize who was inside!  Strangely enough I ended up working as a researcher on The Official Biography of Harold Macmillan written by Alistair Horne many years later.